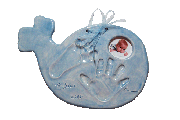 5 By 5 Ceramics is proud to produce top quality products that are carefully hand crafted just for you. Impressions are gently taken in high quality, clay. They are then personalized, glazed, and kiln-fired to create a durable ceramic keepsake that will last a lifetime. All of the products we use are non-toxic and safe. Impressions are not limited by age, they are a fun way to preserve special moments with siblings, parents, grandparents, and even those four legged family members. Several designs, styles, and sizes are available to fit any budget.

Happily serving families throughout the Coachella Valley.

"Little hands, little feet. Pure and precious, and Oh So Sweet!"